Volunteer Program with Japanese University students 2017
----------------------------------------------------------------------------------------------------------------------------------------------------------------------------------------------------
Study tour by Japanese students of Toyo Eiwa University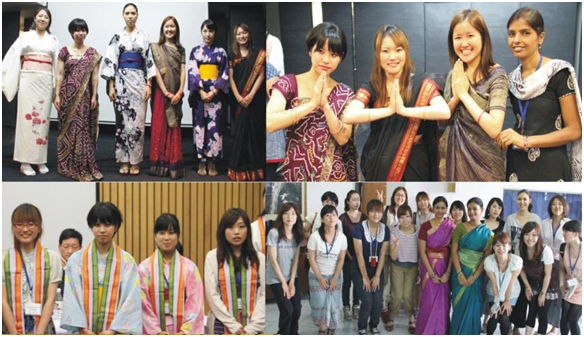 In collaboration From August 17-24, 2012 fifteen University students from Toyo Eiwa University, Tokyo came on a study tour to India along with Professor Saburo Takizawa. This was their first visit to India and the aim was to understand the reality, culture, people, spirituality, issues and situations as well as to volunteer in our social development activities. They taught children in the open schools in the project area in west Delhi slums and participated in the education fair and the health camp for the slum community
SWYAA-India networked with Chief Executive of Help Age India who arranged the visit of Patiala city in Punjab state for two days.  The Japanese students had an opportunity to interact with Indian students of department of social work in the Punjab University.  They also visited two rural old age care homes of Help Age and spent time interacting with the elderly and saw the similarity of issues concerning elderly care in India and Japan.
They were taken on a visit to see the 'Taj Mahal' in Agra and visited the historical monuments like the 'Qutub Minar' and 'Dilli Haat'.
| | |
| --- | --- |
| SWYAA-India organized a get together in the Japan Foundation where these students gave a demonstration of their traditional dress, the Kimono and held a tea ceremony. A fashion show was organized by SWYAA-India volunteers and the some of the students wore the traditional Indian sarees. Mr. KatsumaDoi, Director General and Mr. Yojiro Tanaka, Director of the Japan Foundation welcomed the Japanese students, were present during the program and extending full cooperation.   | |
SWYAA-India collaborated with the School of Languages, Literature and Cultural Studies at the Jawaharlal Nehru University (JNU) where the Indian students who are learning Japanese, Korean and Chinese languages had an opportunity to interact with the Japanese students.
Mr. Abraham George, Chairman and the faculty members namely Prof. Sushma Jain and Prof. Madhumita Roy facilitated the program. Around 100 Indian and Japanese youth expressed their solidarity and demonstrated songs, dance and games of India and Japan while holding animated discussions in group
| | |
| --- | --- |
| SWYAA-India collaborated with Mr. Vishnu Dusadh, Chairman of 'Nucleus Software' which is a global banking and financial powerhouse providing innovative pioneering products and software solutions doing business gave the students an idea of the plans of the company for expanding their business in Japan in the future. | |
Volunteer from Sophia University
| | |
| --- | --- |
| | Sophia University collaborated by sending one student Ms. Azusa Kurosawa to volunteer with us for a month. She developed a bond with the children of the open schools and taught them Japanese culture and basic communication skills in Japanese and English. She also spent time with the students of the government schools and taught them to sing Japanese songs and the art of Origami. |