| | | |
| --- | --- | --- |
| | | Ship for World Youth Alumni Association-India (SWYAA-India) is an Alumni Association (AA) of delegates sent by the Ministry of Youth Affairs and Sports (YAS), Government of India since 1989 to participate in the Ship for World Youth (SWY) program and the Global Youth Leadership Development Program (GLDP) organized by the Cabinet Office of the Government of Japan. Till date, 158 Indian delegates have been nominated by the Ministry of Youth Affairs & Sports, Government of India in 14 batches. |
| | | |
| --- | --- | --- |
| Ms. ShobhanaRadhakrishna, Chief Executive, SWYAA-India is on a mission to spread the socially relevant messages of Mahatma Gandhi on peace, non-violence, satyagraha, universal brotherhood, unity and harmony in India and abroad. Mahatma Gandhi's thought and life can guide the people in any part of the world as it has the strength to inspire and bring about change. | | |
Mahatma Gandhi's words and deeds illuminate the leadership challenges of today- and tomorrow. There are few leaders who can measure up to the standards set by Mahatma Gandhi in the practice of ethical leadership. If Truth is relevant, Gandhi is relevant. He is a supreme practical leader for change whose life can inspire and guide the modern and aspiring leaders. Mahatma Gandhi stands for commitment to values, ethical leadership conduct and transparency which are important traits of a leader. Mahatma Gandhi proved that moral and ethical behavior is inexorably linked to the sincere understanding and practice of the eternal values. His leadership qualities of being honest, trustworthy and practicing integrity in public life are a perfect model to be emulated in all spheres. In October 2009,2011 and 2014 Mr. Ravi Chopra, Vice-President, SWYAA-India and Ms. ShobhanaRadhakrishna visited Japan to deliver a series of twenty eight lectures. This was sponsored by the Indian Council for Cultural Relations, Government of India, and hosted by the Embassy of India in Japan, Japan International Cooperation Agency, Suginami Association for Cultural Exchange, International Youth Exchange Organization, various universities and institutions.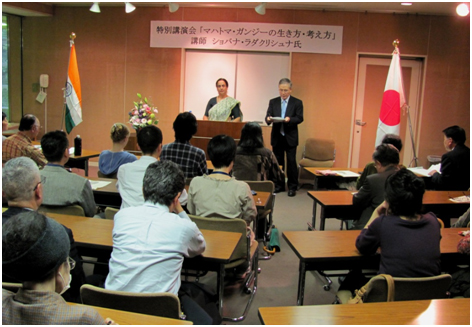 Ms. ShobhanaRadhakrishnadelivering lecture at Suginami City Library center, Japan
These lectures in English, with Japanese translation, gave an insight into the Mahatma's life and covered various aspects such as Gandhi's concept of non-violence and peace, Satyagraha (non-violent resistance) Gandhi the spiritual politician, constructive programs, applying the spirit of Gandhi in today's society and Gandhi will live on…  The lectures were well received by the Japanese audience comprising of scholars, students, researchers and peace activists.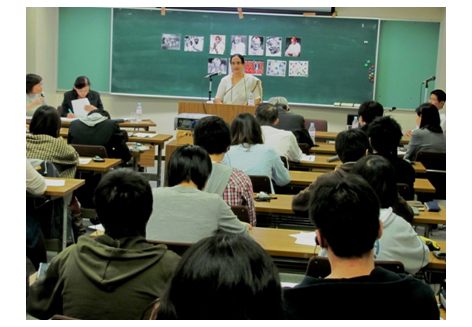 Lecture at Institute of Oriental Philosophy, Soka University, Tokyo
During this trip, Ms. Radhakrishna and Mr. Chopra had a meeting with the Mayor of Suginami City, Mr. Hiroshi Yamada, and paid homage to the life-sized statue of Mahatma Gandhi at Dokusho no Mori Koen in Suginami city, accompanied by the officials of the city office
Lecture at Japan International Cooperation Agency (JICA) head office, Tokyo

Lecture at Embassy of India in Japan, Tokyo